WELCOME TO THE FUTURE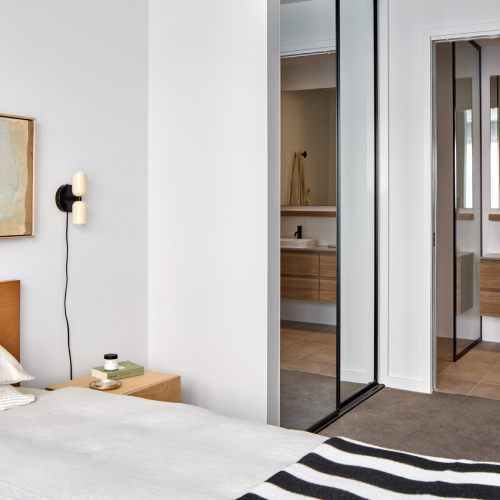 RELISH THE MORNING LIGHT
This beautiful master bedroom features 2.7m high ceilings and large double glazed windows and doors to maximise views of Eckersley Garden Architecture's designed courtyard – making the most of the morning light. Featuring a beautiful queen sized bed by Koala, and luxury French linen by Carlotta + Gee, this room is the perfect space to enjoy the morning light with a book in bed. This room offers a seamless connection to the His and Hers WIR and double vanity ensuite, making it a premier example of a private oasis.
This room includes Koala's queen mattress and bed base, Plyroom's bedside tables and bench seat, Carlotta + Gee bed linen, pyjamas and robes, and is styled with sustainable products from Sans Beast, Outland Denim, BOODY, ROCC and Go for Zero.
GET YOUR TO-DO LIST DONE
Displayed as 'flexi' room, this bedroom showcases a space to suit your needs – an easy to use Koala cushy sofa bed, paired with a stunning Koala desk for a second work from home zone – perfect for when you have guests or need a place to work when your family is home. This light filled room can be easily converted back into its main purpose as a second bedroom which can comfortably fit a queen bed paired with linen from Carlotta + Gee. Touch, feel and discover the sustainability features and stunning products from our valued partners.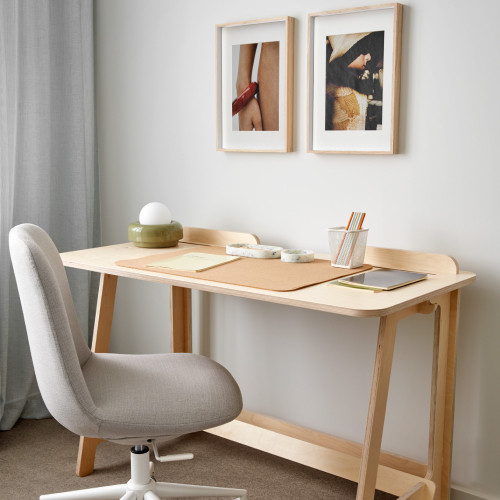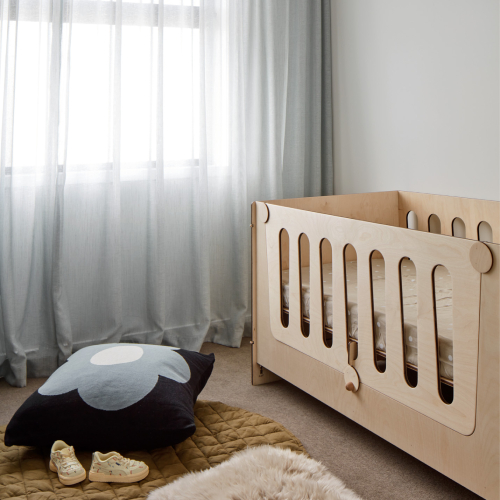 DESIGNED TO GROW WITH YOU
Displayed as a beautiful children's room, this light filled room includes stunning sheers from Lovelight, and is centred around the stunning 'Ava Lifestages Cot' by Plyroom, offering flexibility for a growing family. This cot easily transitions into a junior bed and a desk, and is designed to grow with your child and adapt to your life within The Fabric by Mirvac's fully electric townhomes.
AN ENTERTAINERS DELIGHT
Overlooking Patchwork Park, this modern home design features a well-appointed gulley kitchen with servery connecting to the balcony, and is the perfect space for entertaining in the warmer months. With quality contemporary fittings and fixtures to present an architectural palette, this kitchen has been fitted with a Smeg induction cooktop, BOSCH oven, microwave & dishwasher, and integrated Fisher & Paykel fridge. The kitchen has been decked out with a range of sustainable appliances and household items from Pleasant State, Great Wrap, Go for Zero, Smeg and not to mention the stunning range of preserves and jams from our friends at Wallace Family Produce.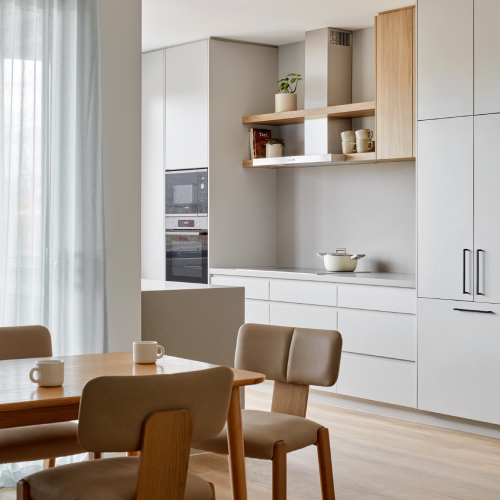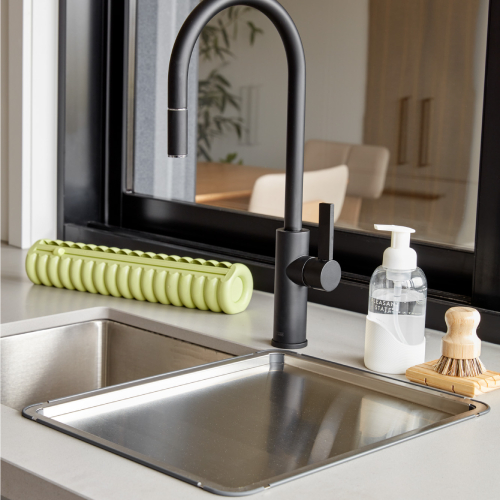 TRANSFORM YOUR LIFESTYLE
Our flexible open plan living and dining space offers an abundance of north-facing natural light flowing into the living and dining area, and has been designed to transform and accommodate your preferred lifestyle. Whether you want to enjoy dinner with the family, watch your favourite doco series or have a space for children to play, The Fabric's homes have been designed with more than one purpose in mind, and the Future Ready Display Home is no different. Featuring the stunning 3 seater couch and armchair by Jardan, gorgeous Plyroom coffee and side table, and generous 6 seater Koala dining table with stunning greenery by Plant Society, mirror and planters by Joshua Space – this really is the heart of a sustainable home!
FEEL INSPIRED IN YOUR STUDY NOOK
Working from home has become increasingly more common over the past few years, and to accommodate, our large study nook has been styled as the perfect spot to set up for the day. With a lovely view to the private courtyard, get your to-do list done with Koala's WFH large desk and comfortable chair with beautiful styled decor and objects to keep you inspired!